Campusgist
UofA: HCIA training and certificate course
​​​​​​
UNIVERSITY OF ABUJA IN COLLABORATION WITH THE HUAWEI ACADEMY
Presents
HUAWEI CERTIFIED ICT ASSOCIATE (HCIA) TRAINING AND CERTIFICATION COURSE
The Uniabuja-Huawei Academy presents the HUAWEI CERTIFIED ICT ASSOCIATE (HCIA) TRAINING AND CERTIFICATION COURSE.
Huawei is a leading global Information Communication Technology (ICT) solution provider. Huawei Certification System is well-recognized and is becoming a standard for ICT talent cultivation.
This training is designed for prospective networking professionals and students who have basic understanding of networking. HCIA certification validates the knowledge and skills required for basic configuration and maintenance of small to medium-sized networks.
Overview
What is HCIA(R&S)?
The HCIA-Routing & Switching V2.5 is a highly practical computer networking course, It is like Cisco CCNA, Juniper JNCIA and Nokia NRS I, it covers basic IP network connectivity, TCP/IP technologies, Ethernet technologies such as STP and RSTP, VLAN and Link Aggregation and their implementation within Huawei switches. Routing principles and OSPF routing protocol for IPv4 and IPv6 networks, WAN technologies, IP based security, network management as well as IPv4 and IPv6 based application services, MPLS and SR principles.
For interested students please fill " Interest form" here >> University of Abuja Huawei Trainings
https://docs.google.com/forms/d/e/1FAIpQLScUkKPEqrNNB0Tcc1NmT9SDZ4ckprVdF47f-fuXbSh8wM7uVg/viewform
Limited seats available as this is the pilot batch.
Uof A :: Huawei Academy
An attachment for further informations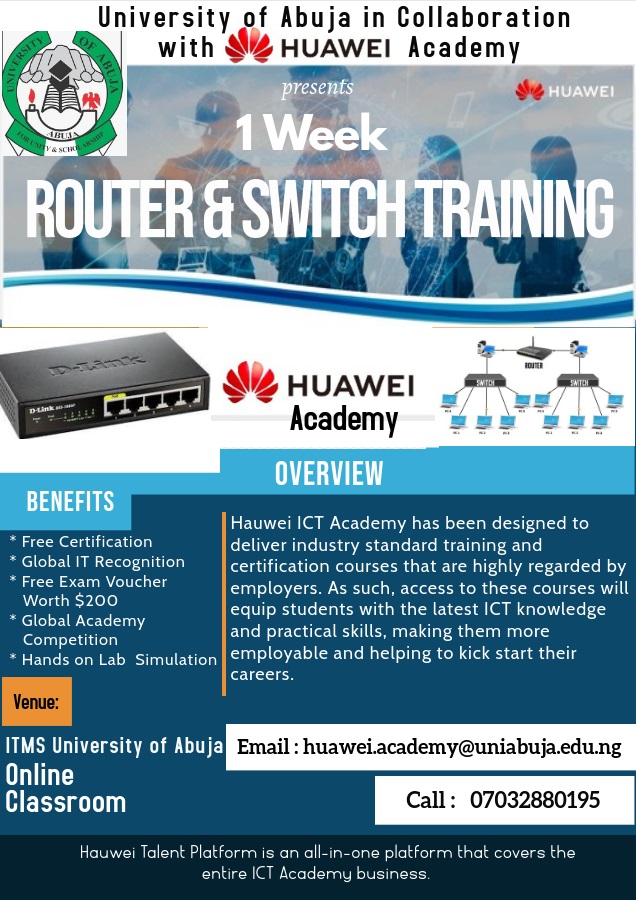 To produce better content, we require your reviews about this post. Please select which of the faces best represent your views. You don't need to be logged in to do this.
To join our broadcast list on WhatsApp, click here